Publication Alert! Sex Ed: a sexual health primer for adolescents and young adults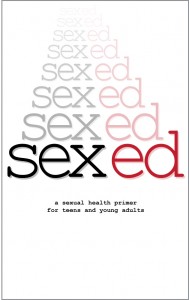 sexed is now available for $3.00 at the Kindle store at amazon.com on March 1, 2012.  The Nook store at Barnes & Noble now has the book as well (March 5, 2012) as does the Google Play Store (formerly Android Market).
Sex Ed: a sexual health primer for teens and young adults is a basic sex education text aimed at providing a thorough but concise preparation for the teenage sexual experience in America.  The book stresses the highly individual and personal nature of decisions about sex and consistently promotes respect for all positions, from abstinence to promiscuity, heterosexuality to homosexuality, and many points in between.
Please be aware that as a sex education book, there are descriptions of human reproductive anatomy as well as different kinds of sexual activity.  [Warning: editor is jumping on soapbox] You might thing that is sort of a "Duh"  statement, but  some so-called sex education courses do not describe these things apparently on the theory that "ignorance is bliss" is better than "forewarned is forearmed".  The simple fact of the matter is that abstinence-only sex "education" that does not actually discuss anything to do with sex for fear that it might entice someone into it, does not work.  Deciding whether or not to have sex is too big a decision to make without as much information as possible, no matter which way you decide.  [OK, editor now off soapbox.]
If you are a high school health, sex ed, or biology teacher and would like to use this as a textbook, but certain sections would not be fall within your school system's guidelines, please feel free to contact us about customizing a "school-safe" version.
Finally, here is the rough Table of Contents:
1.  Introduction.
2.  Relationships.
3.  The Sexual Body.
4.  Pregnancy: When Sperm meets Egg.
5.  Contraception.
6.  Sexually Transmitted Diseases.
7.  Experimenting On Your Own.
8.  Consent
9.  Who Do You Love?
10.  Brain and Body: The Question of Gender
11.  Sex
13.  NOT all you need to know.
Online Resources